'Democratic' Dating Sites*
Along with Democratic Passions (the site you are on now), the sites listed below all focus on connecting single Democrats with other singles who are liberal or progressive in their political beliefs. The sites listed below range from those focused on Democratic Dating to others focused on Democratic Chat. The primary goal is to connect people though. Each site, regardless of the company running it, shares many of the same characteristics as many of the other sites. So, if you are looking for a great dating site focused on Democratic singles, then there are MANY here to choose from, so look through the ones below to find the one that seems like the best fit for you.
AD

Democrats Dating Connexion
Meet Democratic Singles! Sign Up and Find Love Tonight!
Do you believe in equality for all? Do you think women should have control over their own bodies? Do you think there should be affordable healthcare for everyone in the U.S. regardless of their circumstances? Democrats Dating Connexion helps to connect like-minded progressive singles who believe in Democracy and freedom for all.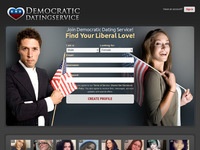 Democratic Dating Service
Find Your Liberal Love!
Democrat? Liberal? Progressive? Left-leaning? Caring? Intelligent? Empathetic? If any of these are how you identify, then you will likely feel at home on Democratic Dating Service. Find like-minded liberals who care about equal justice for all.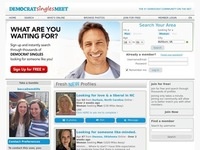 Democrat Singles Meet
Start searching 1000's of Democrats in your area today!
If you are trying to avoid the mind-numbing experience of having a date with a trump supporter, or really any un-caring Republican, then sign up on Democrat Singles Meet. You will find fellow liberals seeking dates, romance and love.
AD
Liberal Hearts
Uniting Liberal Hearts!
As one of the very first politically focused dating sites, Liberal Hearts helps connect Democrats, liberals, progressives and 'green singles'. Basically, if you have a heart and you care about your fellow humans, this is the site for you.
Democratic PeopleMeet
Find Democrats Here
As part of the much larger PeopleMeet network, Democratic People Meet helps to connect Democrats online.
TenderMeets: Democratic Dating
Dating Online For Single Democrats
While TenderMeets is a larger site, it is segmented to allow members to join areas that match their interests. If you are looking for members who share your political views, this may be the spot for you.
Democrat Dater
Meet Liberals And Progressives
Enjoy a dating site where you can feel comfortable everyone shares your political views, provided you are left-leaning and progressive in how you view the world.
*Sites listed on this page are a combination of ads, affiliate related Sites and general non-partnership related sites that match the theme of Democratic Passions.